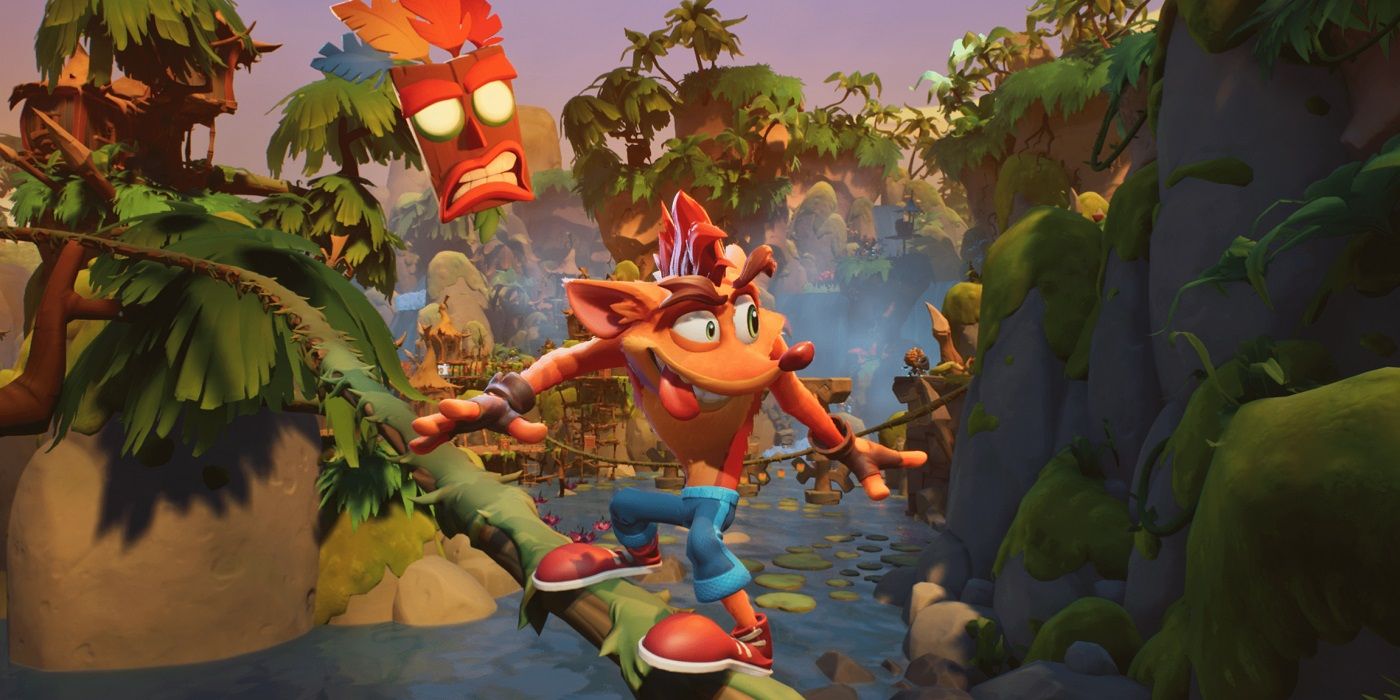 The creative producer for Crash Bandicoot 4 says that the game owes a lot to the dev team's previous project, the Spyro Reignited Trilogy.
Crash Bandicoot and Spyro the Dragon are both 90s icons who experienced a massive surge in popularity after their franchises were revived, but they have something else in common: both Crash Bandicoot 4: It's About Time and the Spyro Reignited Trilogy were made by developer Toys for Bob. In fact, the devs went straight from Spyro Reignited Trilogy to Crash Bandicoot 4, and the purple dragon helped bring the marsupial back into action.
According to Crash Bandicoot 4 creative producer Lou Studdert in an interview with Nintendo Everything, the Spyro Reignited Trilogy was the team's first time using Unreal Engine 4 in the fashion they chose. The experience of working on the new Spyro games helped Toys for Bob hone its skills with both Unreal Engine 4 and its own tech tools. The results were so well received that gamers have used Crash Bandicoot 4 and Spyro Reignited Trilogy as proof that other platformers should return.
Continue scrolling to keep reading Click the button below to start this article in quick view. advertising
RELATED: Crash Bandicoot and Spyro Trend as Gamers Vent About Activision
Toys for Bob spent a long time examining the Spyro games and figuring out exactly what made them tick – and thus what fans could expect from a new Spyro game. When the Spyro Reignited Trilogy was finished, the studio carried the lessons it learned to its next platform adventure game. Reportedly, there's always been a lot of love for Crash within Activision, and Toys for Bob jumped at the chance to bring a second beloved franchise back from the dead. Figuring out how to get a series so entrenched in the aesthetic of the 90s into the modern day was a complicated process, and Studdert claims the team owes their success to experiences with the Spyro Reignited Trilogy.
advertising
From a tech and design philosophy standpoint, Toys for Bob's work on Crash Bandicoot 4: It's About Time was an extension of the work it was doing on the Spyro Reignited Trilogy. The devs made sure they knew what these franchises' most essential pieces were before they began updating and overhauling key mechanics. The revival worked so well and drew so much attention that Studdert hopes Crash might appear in Super Smash Bros.
Crash Bandicoot 4 owing part of its success to the Spyro Reignited Trilogy isn't much of a surprise considering the studio was working on those games concurrently for part of the development time. In fact, Studdert said the studio was so small there weren't even separate teams – a few people at a time were simply carved off to pursue the development of another project. However, as the Spyro Reignited Trilogy came closer to completion, the team focused on seeing it through rather than continue to multitask. The future of both franchises is currently uncertain, but some of the voice actors from Crash Bandicoot have begun teasing a new project.
advertising
Crash Bandicoot 4: It's About Time is out now on PC, PS4, PS5, Switch, Xbox One, and Xbox Series X/S.
MORE: Crash Bandicoot Would Make A Great Kid's Show
Source: Nintendo Everything
Ratchet and Clank: Rift Apart Review
advertising